This week's reflection on the lectionary Gospel, John 1.43-51 appropriately follows on from last week's exploration of heavens torn open in the Gospel of Mark. I hope to return to the image of the 'tree of life' with which it concludes in further reflections during the coming months.
I am however, very much on the lookout for possible contributors, both lay and clergy, to this blog. If you are interested to take responsibility for a week, I would be very grateful to hear from you.
Clare Amos, Director of Lay Discipleship,
clare.amos@europe.anglican.org
It is fascinating to compare the Gospels of Mark and John both of which appear in our lectionary in different weeks during this season. I think that John's Gospel tends to get more used in this 'filler fashion' during the Year of Mark, than in the other two lectionary years, partly because Mark itself is so much shorter and sparser. The comparison tells us something important about both Gospels.
When I taught New Testament to ordinands and university students in a structured way I would often use the first chapter of John's Gospel as my primary tool to introduce what is called the 'Christology' of John (ie what the Gospel writer thinks about who Jesus was and what he did). In this chapter there is an amazing plethora of titles bestowed upon Jesus, some of which appear more than once, and some of which are implied partly because they are 'refused' by John the Baptist. I list them here with verse references:
Word (Logos) (1, 14)
Jesus Christ (17)
Only Son/Son of God (14, 18, 49)
God (18)
Messiah (20, 41)
Elijah (21)
The Prophet (21)
Lamb of God (29, 36)
Rabbi (38, 49)
Jesus, son of Joseph, from Nazareth (45)
King of Israel (49)
Son of Man. (51)
What I find intriguing, and what tells us something important about the nature and purpose of the Gospel of John, is that by verse 41 of this chapter, one of his disciples (Andrew) is already naming Jesus as the Messiah, 'We have found the Messiah', a discovery which it takes eight painful chapters of the Gospel of Mark for the disciples to arrive at (Peter answered him 'You are the Messiah', Mark 8.29). In effect we can say that John's Gospel takes up its story about the meaning of Jesus from a point that is halfway through the Gospel of Mark. Indeed a careful reading of the Gospel of John makes it clear that though it is 'correct' to name Jesus as 'Messiah' that title by itself is not fully adequate – Jesus is that, but also much more besides, a reality that the Gospel of John will explore as Jesus' story continues to be told.
The lectionary Gospel for this coming Sunday is the last 9 verses of John 1, John 1.43-51. Within these short 9 verses the Gospel sparkles with John's characteristic allusiveness and irony. To discover the import of what the Evangelist is sharing we need to 'read' it alongside other parts of the Gospel, and indeed other parts of the Bible. I work through a few examples of this from beginning to end of the passage. The 'high point' (literally!) comes at the end.
First, the intriguing note that 'Philip was from Bethsaida, the city of Andrew and Peter' (1.44). On the whole, when John's Gospel offers a note of time or place, there is a reason for it. It is fascinating that Peter (and Andrew) should be linked in this way to 'Bethsaida'. Our normal assumption (on the basis of the Synoptic Gospels e.g. Mark 1.29) is that the brothers lived in Capernaum. Now as it happens the town of Bethsaida is not that far away from Capernaum – further round the Sea of Galilee in an easterly direction. It was a thriving city: recently excavated Biblical village of Bethsaida where Jesus walked on water is finally identified by archaeologists | Daily Mail Online.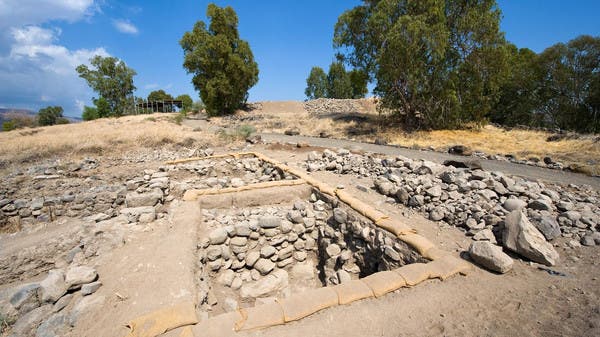 There is a mention of Bethsaida however in the Gospel of Mark (8.22-26), as the location of the healing of a blind man. Partly because this story comes 'immediately' before Peter's confession of faith in Jesus as 'Messiah', there has been a long-standing Christian tradition (going back to the patristic period) that Peter, in some symbolic way, can be identified with 'the blind man of Bethsaida'. Given that in John chapter 1 Peter, unlike Andrew and Nathanael, is not told, 'Come and see' – is he, from the perspective of the Gospel of John, still personifying in some sense 'the blind man of Bethsaida' – in fact until chapter 21 of the Gospel?
Second, that expression 'Come and see'. It is interesting to notice that it appears twice in John 1. It is first addressed by Jesus himself to two disciples, Andrew and another. Later on however the same words are used by Philip to Nathanael. By its repeated use in this way the Gospel quietly suggests that the role of a follower of Jesus is both to 'Come and see' for themselves, and then to be the encourager of others to do so. As we in the Diocese explore our understanding of discipleship, this invitation of our role in enabling others to 'Come and see' is surely something to bear in mind.
Third – the Gospel makes it clear that not all titles or descriptions given to Jesus are adequate. For example, though it is correct to refer to Jesus as 'Rabbi' (verses 18, 49) that is certainly not all that can or should be said about him, and the Gospel writer wants us to realise this. But there is a point in these verses where one of the ways in which Jesus is described is so inadequate that it is wrong! For Philip refers to him as 'Jesus son of Joseph from Nazareth' (1.45) Undoubtedly for the Gospel of John Jesus is 'Son of God', not of Joseph. So I find it fascinating, and an example of John's theological artistry that in the Farewell Discourses there is a discussion between Jesus and non other than Philip about the relationship between Jesus and the Father:
Philip said to him, 'Lord, show us the Father, and we will be satisfied.' Jesus said to him, 'Have I been with you all this time, Philip, and you still do not know me? Whoever has seen me has seen the Father. How can you say, "Show us the Father"? Do you not believe that I am in the Father and the Father is in me? The words that I say to you I do not speak on my own; but the Father who dwells in me does his works. (John 14.8-10)
Poor old Philip – even 14 chapters down the line the one who described Jesus as 'son of Joseph' is 'still' uncomprehending of Jesus' true filial nature and role!
And finally, and for me, the 'jewel' in our Gospel reading this week, there are the allusions to the Old Testament story of Jacob, used to interpret both the role of Jesus, and that of Nathanael.
This is apparent in the final verse of the chapter where the reference to 'the angels of God ascending and descending upon the Son of Man' (John 1.51) clearly recalls the ladder between earth and heaven with angels upon it that Jacob saw at Bethel (Genesis 28.12). But now of course it is the 'Son of Man', identified with Jesus himself, not a holy place or a sanctuary, that becomes the space where God can be present on earth. Less obvious however is the delicious description of Nathanael as 'Truly an Israelite in whom there is no deceit!' (John 1.47). For Nathanael is being compared and contrasted with Jacob, who was of course eventually renamed 'Israel' (Genesis 32.28) but who was notorious for his guile and deceit. These allusions give the final verses of this chapter a climactic feel, and it is interesting that the climactic description given to Jesus after such a wealth of honorific titles should be 'Son of Man'. What might this say to us about the relationship between humanity and divinity in the new creation which Jesus will inaugurate?
Last week, as we looked at the account of Jesus' baptism in the Gospel of Mark, we heard about heavens torn open. (Mark 1.9-11). Once again here in John the biblical account speaks of 'opened heavens' (John 1.51). But John's Gospel takes us one further step, for the image of the ladder here makes clear that in his own person Jesus becomes the bridge that links heaven and earth, a bridge that will be finally opened when Jesus is 'lifted up' on his Cross, which has become the 'Tree of Life'. This is powerfully depicted in the painting at the top by the Haitian artist Jacques-Richard Chery, which was originally commissioned by Misereor in Germany. On this 'Tree' the Son of Man is stretched out, taking into himself the darkness of the depths, and opening up for us a new heaven. (For a detailed description of the 'meaning' of each part of the picture see ArtWay.eu)